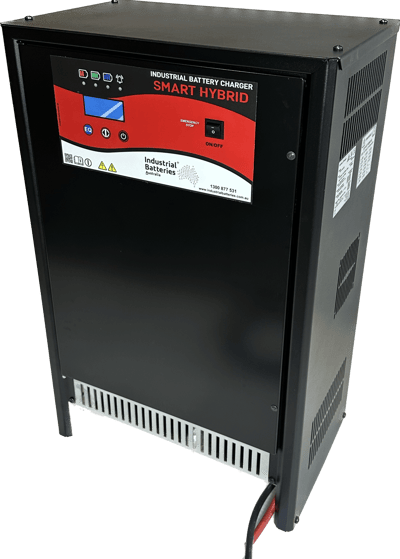 Battery Chargers
Smart Hybrid Forklift Battery Charger
SUITABLE FOR:

24/36/48/72/80 VOLT LEAD ACID, GEL AND AGM

AVAILABILITY:

AVAILABLE
An advanced Smart Charger capable of supplying both Standard overnight and "Opportunity" Battery Charging to also have the ability to extend daily Electric Forklift run times by adding controlled boost charges to the Battery during usage shifts where required. For use in high usage Electric Forklift applications where longer then 8 hours of daily usage is required, can be programmed to suit multiple Battery chemistries (Lead Acid, GEL, AGM Batteries) and set up to suit any usage application. Supplied to the Australian market for over 10 years now, these proven and reliable Chargers come with a 5 Year Manufacturers Warranty given their "Hybrid" robust and reliable design, where the HF components are insulated by the Transformer design of the Charger, which negates from voltage spike issues that can impact on only HF based Chargers here in Australia given the potential for fluctuating power supply. Also providing a precise and thinking Charger current to the Battery during Charge, this will extend overall battery life expectancy and is IBA' premium Charger offering to the market.
Battery Chargers
Specifications
5 Year Manufacturer's warranty
Ensure optimal Battery life
Extend daily Battery run times
Extremely efficient and robust hybrid design
Suitable for fast charging applications
Integrated closed loop communication with optional Fast charge Battery Module
Suits single shift and multi-shift operations
Integrated and programmable user interface
Automatic equalisation and refresh
Highly efficient charge profiles to suit AGM, Gel, Lead Acid and Lithium Ion Industrial Batteries
Battery Chargers
Frequently bought with
Add flexibility and extended battery run times to your applications. Contact our team today.
Battery Chargers
What Forklift this Charger Suits
This premium charger suits all standard, opportunity and fast charging applications.
Frequently Asked Questions
Why is a hybrid charger better?
Our smart charger range is based on hybrid technology where the efficient high frequency (HF) components (offered as an industry standard) are insulated and protected by the incorporated transformer design.
This clever design ensures we can supply an extremely adaptable and intuitive smart charger for all possible applications.
Why should you use specialised charger when Opportunity or Fast charging your Forklift Battery?
A Battery's life span is determined by the number of charge cycles that it can perform.
When a battery is on a charge, the greatest degree of deterioration occurs in the last 20%, or the gassing stage.
If a battery being opportunity charged is plugged into a standard charger (instead of a specialised Opportunity or Fast charger) throughout the day, and is not discharged more than 80%, a week's worth of wear will be experienced in one day.
This effectively turns a five year battery into a one-two year battery. This is where the terminology "Opportunity Charging" has derived from. A conventional or standard charger used for this type of charging will irreparably damage a battery.
Still have a question?
If you cannot find an answer to your question in our FAQ, you can always contact us. We will answer to you shortly!