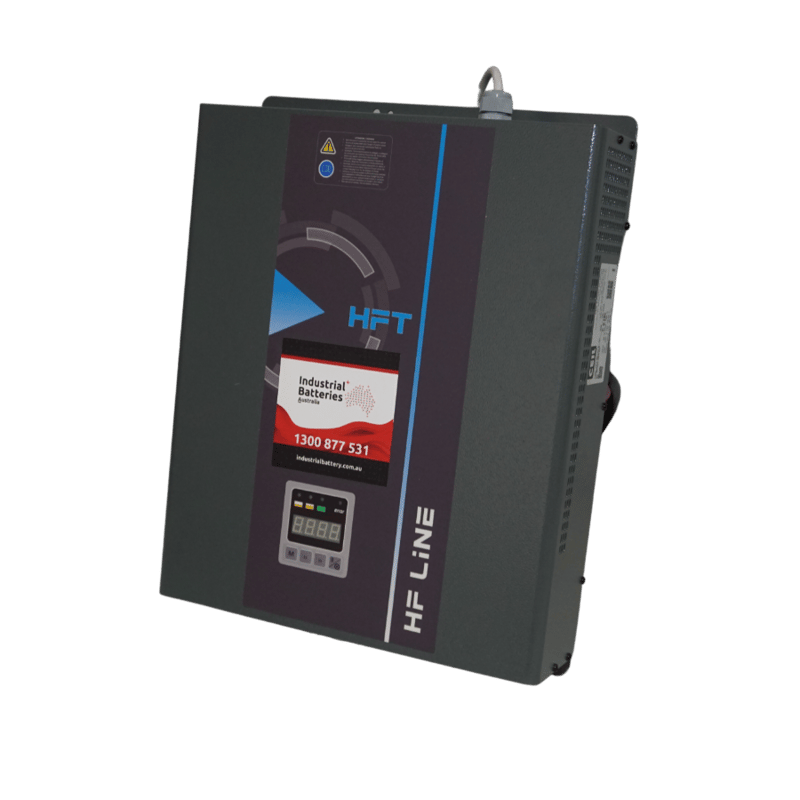 Battery Chargers
High Frequency Forklift Battery Charger
SUITABLE FOR:

24/36/48/72/80 VOLT LEAD ACID, GEL AND AGM

AVAILABILITY:

AVAILABLE

MODEL NUMBER:

HF Charger
A compact and wall mounted Forklift Battery Charger, manufactured in Italy and designed for when a compact Charging solution is required and Floor space is at a premium. A highly efficient Charger offering for multiple Industrial Battery chemistries, can be programmed to suit Lead Acid, Gel and AGM Forklift Industrial Batteries. For use in standard overnight Battery charging applications. These Chargers are supplied to be used with any Industrial Battery type and capacity. Coimng in both Single (240v) and Three Phase (415) variants, these will suit all 24v / 36v / 48v/ 72v / 80v Battery Sizing, from a small 20amp output all the way up to 160amp output.
HF Wall mounted Battery Chargers
Specifications
2 Year Manufacturer's warranty
Extremely efficient design
Suitable for standard overnight Charging applications
Suits single shift Electric Forklift operations
Automatic equalisation and refresh
Highly efficient charge profiles to suit standard lead Acid, Gel and AGM Industrial Forklift Batteries
Battery Chargers
Frequently bought with
Add flexibility and extended battery run times to your applications. Contact our team today.
5 Year Warranty
Did you know that our Smart Charger range is supplied with a 5 year Manufacturers Warranty?
Our Hybrid Smart Chargers, designed for Standard Overnight and specialised Opportunity Charge and Fast Charging applications are designed to greatly extend the life expectancy of your Forklift Battery asset and are a great return on investment option to get the most out of your Forklift Battery.
We're proud to be the only leading supplier in Australia providing a 5 Year Battery Charger Warranty on this range.
Battery Chargers
What Forklift this Charger Suits
The HF Charger range suits all standard overnight Charging applications for Electric Forklifts.
Frequently Asked Questions
What is opportunity charging?
Also known as fast charging - this is when forklift batteries are charged during break periods throughout the day to maintain a a high degree of battery charge.
In doing so, batteries can be used for applications that historically needed gas trucks or second shift batteries, rather than just the traditional "8" hours - without damaging the batteries.

Each charge cycle effectively provides a "boost" charge to the Battery, negating the gassing phase of Charge - the rate of this "boost" Charge is indicative of whether it is Rapid Opportunity (20-25% Start rate) or Fast Charge (normally 30-40% start rate)
Why is a hybrid charger better?
Our smart charger range is based on hybrid technology where the efficient high frequency (HF) components (offered as an industry standard) are insulated and protected by the incorporated transformer design.
This clever design ensures we can supply an extremely adaptable and intuitive smart charger for all possible applications.
Do you have Zip Pay?
Yes, we do offer Zip Pay and other methods of payment including finance options.
Still have a question?
If you cannot find an answer to your question in our FAQ, you can always contact us. We will answer to you shortly!