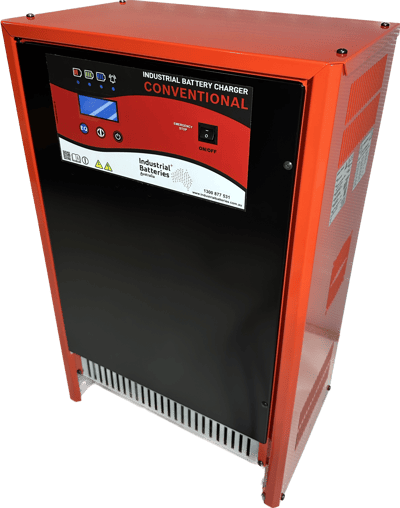 Battery Chargers
Conventional Forklift Battery Charger
SUITABLE FOR:

24 / 36 / 48 / 72 and 80 VOLT LEAD ACID BATTERIES

AVAILABILITY:

AVAILABLE
A reliable and low cost Transformer driven Charger, our CONVENTIONAL range of Battery Chargers are Italian Manufactured, and designed for simplified use and absolute product longevity. Unlike pure HF based Charger technologies which can be more susceptible to voltage spikes, dust and moisture here in Australia, our staple Charger line from IBA is guaranteed to last. If you are after a cost effective and basic overnight Charging option for your Forklift Battery, this is the Charger for you.
Battery Chargers
Specifications
5 Year Manufacturer's Warranty
Designed for overnight Battery Charging
Robust Floor Standing design
User Interface on Three Phase variants
Automatic weekly equalisation and refresh
Italian designed and manufactured
Proven reliability for over 10 Years here in Australia


Battery Chargers
Frequently bought with
Add flexibility and extended battery run times to your applications. Contact our team today.
Battery Chargers
What Forklift this Charger Suits
This premium charger suits all standard, opportunity and fast charging applications.
Frequently Asked Questions
Why is a hybrid charger better?
Our smart charger range is based on hybrid technology where the efficient high frequency (HF) components (offered as an industry standard) are insulated and protected by the incorporated transformer design.
This clever design ensures we can supply an extremely adaptable and intuitive smart charger for all possible applications.
What is opportunity charging?
What is opportunity charging?

Also known as fast charging - this is when forklift batteries are charged during break periods throughout the day to maintain a a high degree of battery charge.
In doing so, batteries can be used for applications that historically needed gas trucks or second shift batteries, rather than just the traditional "8" hours - without damaging the batteries.

Each charge cycle effectively provides a "boost" charge to the Battery, negating the gassing phase of Charge - the rate of this "boost" Charge is indicative of whether it is Rapid Opportunity (20-25% Start rate) or Fast Charge (normally 30-40% start rate)
Do you have Zip pay?
Yes, we do have Zip Pay.
We also have other flexible payment options available including finance through the company 'finance at work'
Still have a question?
If you cannot find an answer to your question in our FAQ, you can always contact us. We will answer to you shortly!