Reduce your costs through better shift Battery management with iBos.
Some larger Electric Forklift usage applications require Battery Charging Rooms and 2nd shift Batteries in order to operate 2 or even 3 full shifts per day using Lead Acid Batteries, and these need to be managed accordingly . Our iBOS Battery room management system from Philadelphia Scientific gives you the technology you need to rotate batteries properly and optimise their performance.
Battery Room Solutions
Battery Performance
Battery changes for electric forklift trucks can be a confusing and time-consuming process. When done incorrectly, they can result in drastically reduced battery life and runtime. The bigger the battery room, the more confusing it becomes, and the more expensive the problems become.

When guesswork is used to manage battery assets, you encounter these problems:

• Reduced battery run time
• Shorter battery life
• More frequent battery failures
• More frequent battery changes
• Less productive operators
• Money wasted on unneeded batteries.
Battery Room Solutions
Battery Room Management
Specifically designed for Multiple Shift Forklift Battery operations, our iBOS battery room management system's mistake-proof, read-and-react system makes battery selection quick and easy.
Web-based reporting provides the management information you need to right-size your fleet. The result: reduced waste, increased productivity and an improved bottom line.
Features and Benefits:
Easy to use: The iBOS has a simple read and react system and a large display that tells forklift operators the correct battery to pick next.
Reduces mispicks:

The shouter sounds an alarm when the operator takes a battery that is not fully charged; this helps to reduce mispicks.
Real-time monitor:

Provides all the information needed to manage the battery pool efficiently.
Longer battery life:

Optimized battery life due to batteries being allowed to cool down. This leads to fewer battery purchases each year.
Better battery room visibility:

Identifies non-working equipment and problems in the battery room via management reports.
Accurate battery purchases:

Helps managers decide if there are too many or too few batteries in the pool.
Fewer and faster battery changes:

The iBOS systems save 2 to 5 minutes per change and result in 30 minutes longer battery run time.
Need to better manage your Battery Room? We Can Help.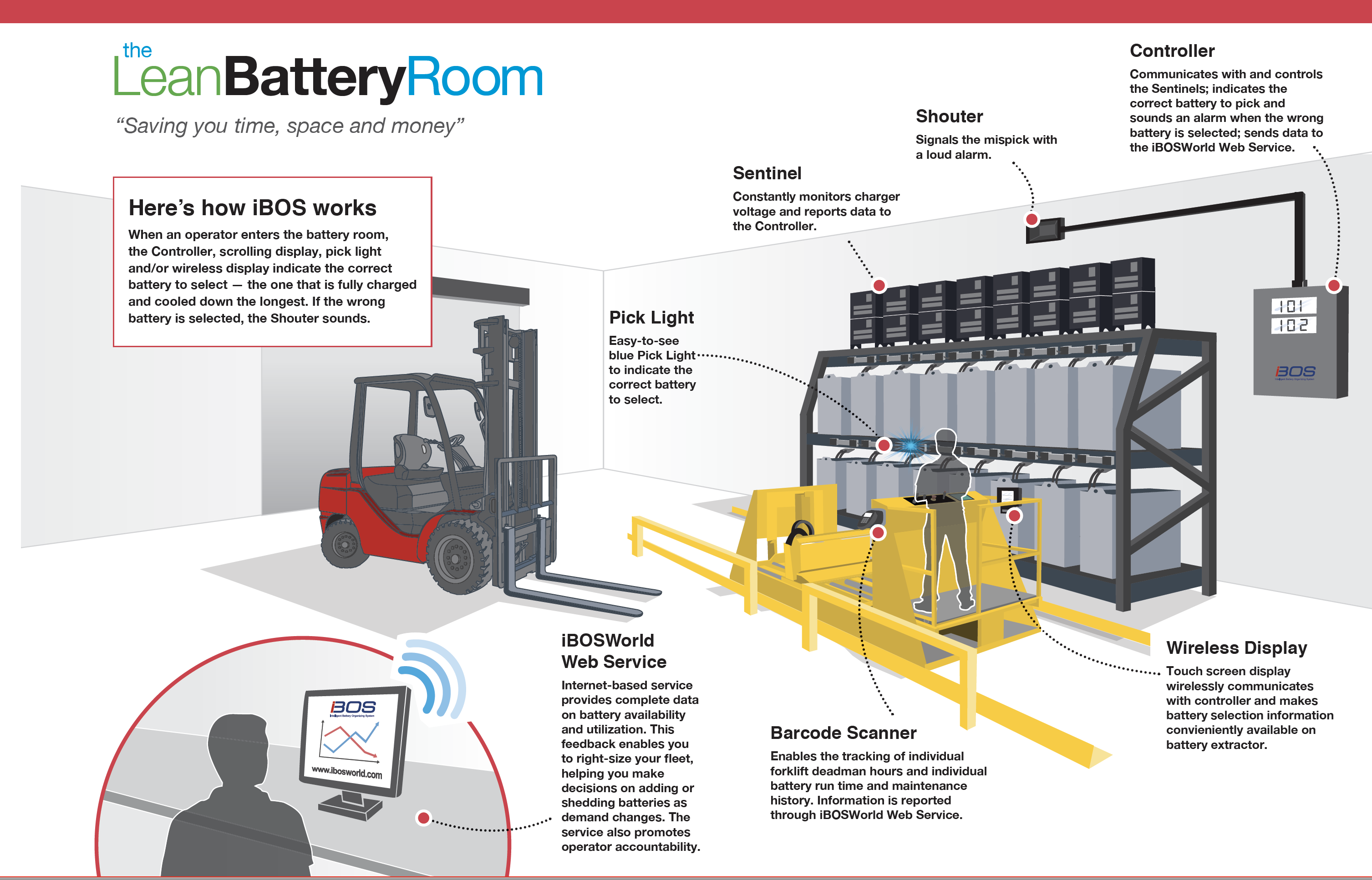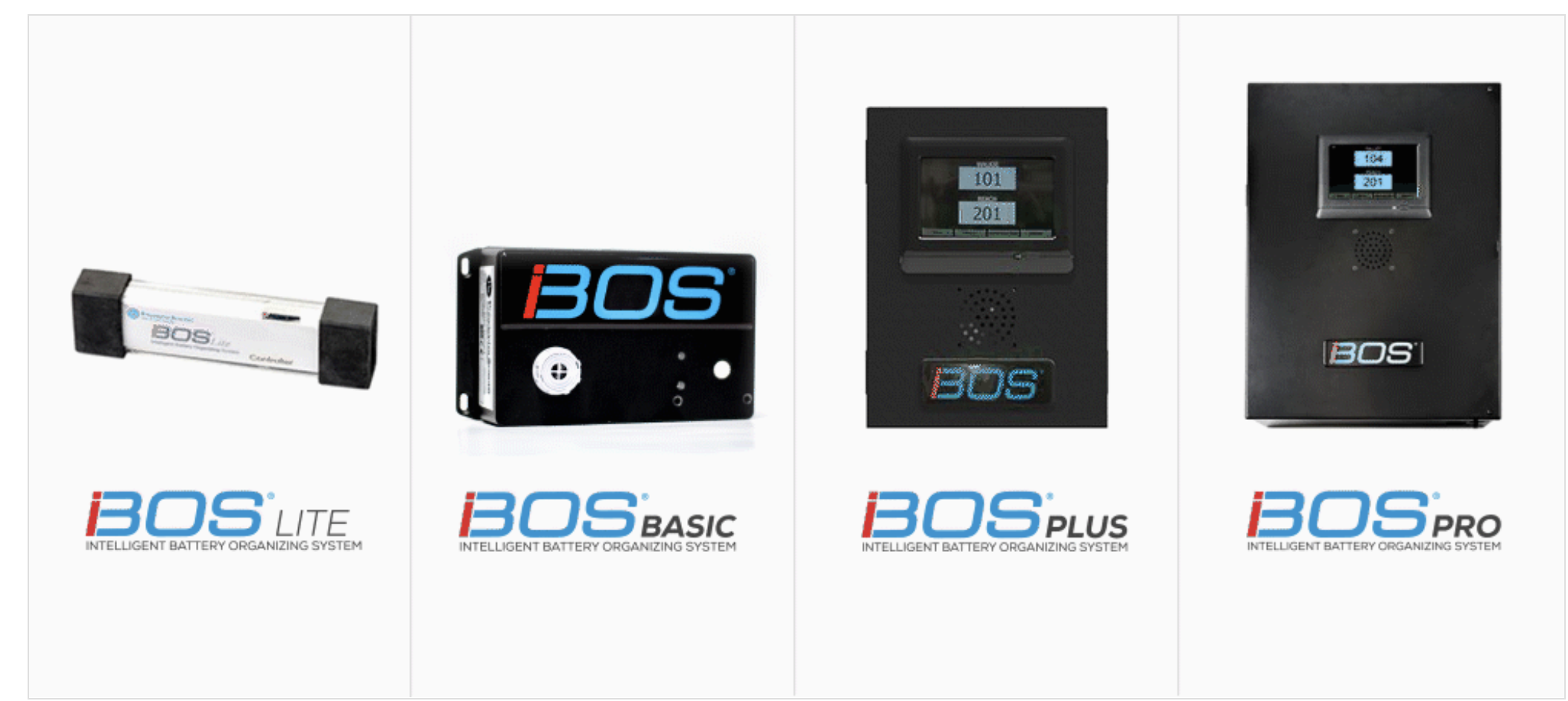 David Cooper
Founder | Managing Director
Request Pricing
What happens when you fill out the form
Our trained staff takes the time to understand what you want to accomplish, then makes recommendations accordingly.
After you fill out the form, a battery specialist from Industrial Batteries Australia will reach out to you within 2 hours on business days.
If you're more of a talker, call us anytime on 1300 044 973
Frequently Asked Questions
What are the power specifications for the 80 Volt Forklift Battery?
A 80 Volt Battery consists of 40 x 2 Volt Battery cells connected together, ranging in capacity, size and weight relative to the output capacity from 150ah through to 1080ah for any Forklift Make and Model.
How often do I need to add water to the battery?
We always suggest that you should top up your battery with water ONCE weekly with clean water and always AFTER charging.
How do I monitor my Battery?
By purchasing a Single Point Water Kit (supplied as a standard with every CEIL Lead Acid Forklift Battery), a Single Point Water Gun (only 1 required per site as they are universal for all Single Point Water Systems) as well as purchasing an optional Water Level Sensor and eGOc Battery Monitor, you have all of the tools required to best and easily maintain your Electric Forklift Battery and get the most our of your Forklift Battery asset.
The eGOc Battery Monitor is utilised to back our Australian only 5 Year Full Replacement Battery Warranty - if you maintain and use the Battery as per standard usage specifications, we will cover the Battery for the full 1500 cycle Warranty Period. The eGOc provides a Battery Health checklist and snapshot when and if required, so that the Battery product is held to account as expected
Do you accept Zip pay?
We accept Zip pay! We also have a finance options available through the provider Finance at Work.
Still have a question?
If you cannot find an answer to your question in our FAQ, you can always contact us. We will answer to you shortly!