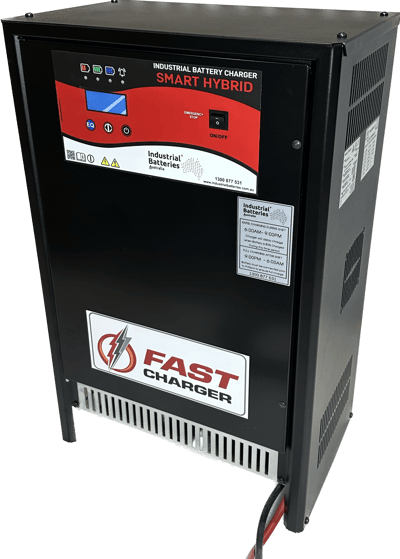 Battery Chargers
Smart Fast Charger
SUITABLE FOR:

24/36/48/72/80 Volt Batteries

AVAILABILITY:

AVAILABLE
A specialised Smart Forklift Battery Charger that IBA have been supplying to the market for almost 10 years, with a heavy increase on standard charge output current designed for the Fast Charging of Forklift Batteries during Forklift usage shifts to greatly extend daily Electric Forklift run times and allow greater daily flexibility for Electric Forklift usage that is over and above a standard 8 hour usage shift. A standard Conventional Charger is designed for overnight Charging only, these Chargers can be used at any time of day. This package can include an optional closed loop Battery and Charger communication device, fitted to the Battery that communicates real time battery information to the charger to ensure precise Fast Charge supply and battery protection from the inherent stresses of Fast Charging. Designed for very high usage Electric Forklift applications, and the removal of Second shift Battery options for extended daily usage. These "Hybrid" (Transformer driven HF) Fast Chargers are designed and manufactured in Italy, and are an extremely robust and proven reliable charger option.
Smart Fast Chargers
Specifications
5 Year Manufacturer's warranty
Rapid charging time 25-40% (start rate)
Integrated closed loop communication with optional Fast charge Battery Module
Battery to charger communication for complete Battery temperature control and protection
Can be supplied in IP54 Weather proof Enclosure
Will Extend daily Battery run times
Extremely efficient and robust hybrid design
Suits multi-shift daily usage applications
Integrated and programmable user interface
Automatic equalisation and refresh
Highly efficient charge profiles to suit AGM, Gel, Lead Acid and Lithium Ion Industrial Batteries
Battery Chargers
Frequently bought with
Add flexibility and extended battery run times to your applications. Contact our team today.
Battery Chargers
What Forklift this Charger Suits
This premium charger suits all standard, opportunity and fast charging applications.
Frequently Asked Questions
What is fast charging?
Charging the battery during down periods throughout the day at a controlled and increased rate of charge. This keeps a high state of charge in your forklift battery perfect for multiple shifts operations and can potentially remove second shift battery requirements.
Each charge cycle effectively provides a controlled 'fast charge' to the battery to increase usable battery capacity, resulting in much longer battery run times.
Why should you use specilaised charger when Opportunity or Fast charging your Forklift Battery?
A Battery's life span is determined by the number of charge cycles that it can perform.
When a battery is on a charge, the greatest degree of deterioration occurs in the last 20%, or the gassing stage.
If a battery being opportunity charged is plugged into a standard charger (instead of a specialised Opportunity or Fast charger) throughout the day, and is not discharged more than 80%, a week's worth of wear will be experienced in one day.
This effectively turns a five year battery into a one-two year battery. This is where the terminology "Opportunity Charging" has derived from. A conventional or standard charger used for this type of charging will irreparably damage a battery.
What payment options are available?
We provide flexible payment options including Zip Pay and also finance options through a business named 'Finance at Work'.
Still have a question?
If you cannot find an answer to your question in our FAQ, you can always contact us. We will answer to you shortly!